Games
Merchants of the Great Exchange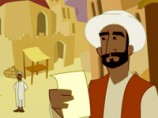 The Great Exchange refers to the transfer of culture, plants, animals, and disease around the world. As people travelled around the world they discovered new products. By the 1700s, Europeans were sailing to Africa, India, China, and Southeast Asia to trade.
This game is based on a book published in 1775 called, "The New and Complete Guide to the East India Trade." It was written by British merchants travelling and trading in the East whose goal was to return alive and with enough goods to sell in England to make a profit.
See if you, too, can return alive to England winning fame and fortune.
Play Merchants of the Great Exchange
Whose Lunch is it Anyway?
When Christopher Columbus and the explorers that followed him landed in the Americas, they began to introduce foods that they were familiar with. Wheat, beef, and sugar are just a few items they introduced through the years. These foods, combined with foods discovered in America, were combined to make the cuisine we eat today.
So… get ready for school, pack your lunch, and see just how many things would have been left in your lunchbox in America before 1492, with Whose Lunch is it Anyway?
Play Whose Lunch is it Anyway?
World Explorer: So just how good a sea captain are you?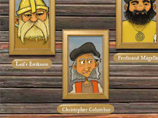 Review your knowledge of five great world explorers: Leifr Eiriksson, Christopher Columbus, Ferdinand Magellan, Henry Hudson, and James Cook.
Each explorer will test your readiness to be a sea captain by asking three questions. Each explorer will test your readiness to be a sea captain by asking three questions. Earn experience points for each question answered correctly.
After answering all fifteen questions, you will receive a sea rank. Do, well, and the helm is yours!
Printable Activities
The printable activities in this section were created as a resource of ideas. You are welcome to download and copy them. These activities are adaptable for fifth grade through high school students.
| | | | |
| --- | --- | --- | --- |
| Create a Compass | Create an Astrolabe | Create a Quadrant | Create a Globe |
| Identify the Parts of a Ship | What Would You Take to Sea? | Explorers Crossword Puzzle | Vocabulary Word Search |
| Identify Navigational Instruments | Latitude and Longitude | Starving Sailors | Sores, Scabs, and Scurvy |